Patel to leave Nottinghamshire at end of season after 22-year career
---
Former England all-rounder Samit Patel has announced he is to leave Nottinghamshire at the end of the season.
The 38-year-old first joined the county at the age of nine and has been a professional for the past 22 years.
Patel, who has made 60 international appearances across all three formats, has not been offered a new contract but is not retiring and hopes to continue his career elsewhere.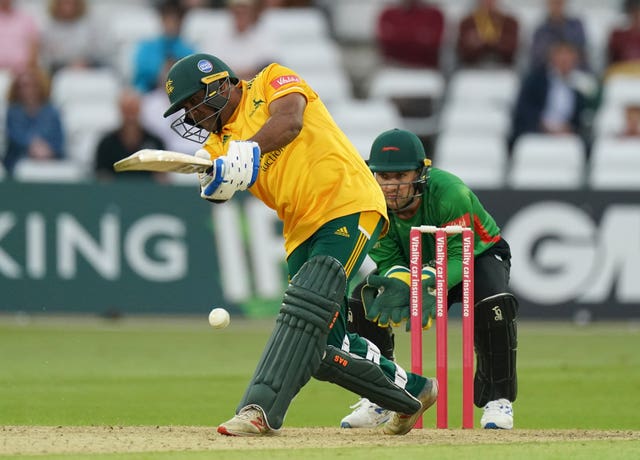 Patel told the county's website, www.trentbridge.co.uk: "It has been a privilege and an honour to represent Nottinghamshire, a place that I have called home for nearly three decades.
"When I signed my first contract at 15, I dreamt of representing my country in all three formats. I have no doubt that the club's unwavering support helped me to achieve these goals and, for that, I will be eternally grateful.
"Nothing would have given me greater pleasure than to see out my career with Notts, but whilst I haven't been offered a new contract at Trent Bridge, I feel determined that I still have a lot to offer the game with both bat and ball.
"I'm looking forward to beginning my next chapter, contributing on and off the field wherever those opportunities may arise."
Patel, a hard-hitting middle-order batter and left-arm spinner, has taken more than 700 wickets and scored almost 21,000 for Nottinghamshire.
He won the County Championship in 2005 and 2010 as well as four limited-overs trophies.
In 2017 he played inspirational innings in the county's One-Day Cup and T20 Blast triumphs and also scored back-to-back first-class double centuries against Gloucestershire and Leicestershire.
Nottinghamshire director of cricket Mick Newell said: "Samit richly deserves the adulation he will get as his time at Notts comes to a close.
"To have his kind of longevity at one club is no mean feat, and speaks volumes of his passion for the county, and the regard in which he has been held by his coaches and peers across his career here.
"I am grateful for his service to the club and the sacrifices he has made to wear the Nottinghamshire shirt."
For exclusive stories and all the detailed cricket news you need, subscribe to The Cricket Paper website, digital edition, or newspaper from as little as 14p a day.

#Patel #leave #Nottinghamshire #season #22year #career