Pallekele Cricket Stadium Today's Weather Forecast and Pitch Report
---
The much-awaited match between India and Pakistan is set to be played this Saturday (September 2) at Kandy in Sri Lanka. However, an unexpected Balagolla storm is threatening to interrupt the match. As the much-anticipated match nears, the question on everyone's mind remains: Will rain play spoilsport?
With tickets being sold in minutes and millions of eager fans awaiting the clash between India and Pakistan, a rain-interrupted game is the last thing anyone would want. The exciting contest could potentially be disrupted by weather as the India vs Pakistan Asia Cup match weather report paints a grim picture. 
The intensity of the match gains further importance due to its rarity. India and Pakistan rarely play these days, as they meet primarily during the Asia Cup and ICC events. This rarity fuels the anticipation, as fans, analysts, and critics brace themselves for the match
The India vs Pakistan rivalry could extend beyond this encounter. Both teams could potentially lock horns thrice, should they progress to the Super 4 stage and the finals of the Asia Cup. The expectation of multiple matches excites fans all around the world.
Rain prediction throughout the day during Ind – Pak Asia Cup 2023 match
The weather forecast, however, gives a mixed signal. As per the weather report, a 70% chance of rain during the Kandy encounter, with precipitation expected around 2:30 PM, just half an hour before the scheduled start is expected. The rain chances are expected to decrease to 60% by 5:30 PM.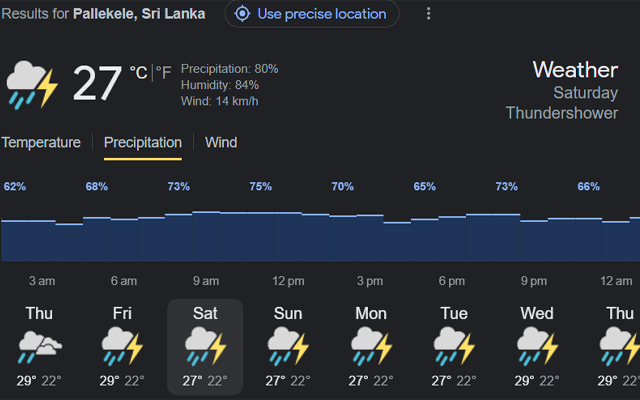 Adding to the uncertainty, Sri Lanka's Met Department predicts rain in several regions of the country in the coming days, including Kandy. The Central Province, where Kandy is located, anticipates rainfall on both Friday and Saturday.
Despite these predictions, the cricketing fraternity and fans worldwide are still hoping that they will be able to watch a full match. Meanwhile, Pakistan has already won their first game of the tournament against Nepal as they thrashed them by 238 runs, showcasing their prowess as a team. 
The Indian team will be without the services of their star batter, KL Rahul, who is doing his rehab in NCA, Bangalore, while Shreyas Iyer is all set to return to the field after a long period of time due to his injury.
Also Check: Asia Cup 2023 Live Updates – Pakistan vs India, 3rd Match 

#Pallekele #Cricket #Stadium #Todays #Weather #Forecast #Pitch #Report